THORAX BED RACK SYSTEM- DIAMOND BACK COVER 2005-2021 TACOMA
THORAX SERIES OVERLAND BED RACK SYSTEM
2005-2020 TOYOTA TACOMA SPECIFIC
DIRECT FITMENT WITH DIAMOND BACK COVERS
ALLOWS DIFFERENT CONFIGURATIONS
AVAILABLE IN 12" OR 18" HEIGHT
AVAILABLE POWDERCOATED OR RAW STEEL
SHORT BED MODEL ONLY
======================
"THORAX" Fully Adjustable width bed rack system, 12" OR 18" Height. Perfect for mounting your overland style tent, Recovery tools, Maxtraxs, Rotopax Water/Fuel Containers, Shovels, Jacks, Fire Extinguisher, Bicycle mounts, ETC to our universal mounting hole patterns along both sides of the rack.
This Rack System is designed to bolt onto the cleats of the Diamond back bed covers, includes 4 uprights and connecting panels as shown. The rack Includes all necessary hardware. Assembly & Paint/Powdercoat is required unless powder coat option is selected.
For use only with the Diamond back Tacoma Bed Cover on Short bed Tacomas Only
Available in 12" or 18" Height, Measured from top of bed rails
Rack Assembly is completed easily in about 45 Minutes.
Universal Tent Mounting Slots, Makes mounting any Tent Brand Easy
Universal Mounting Patterns on Top, And both Sides of rack for Accessories
Assembled weight is 95LBS
Rated for 1000 LB Capacity (While the vehicle is parked)
Includes Full rack assembly- 4 adjustable width bed bars, 9 Connecting Panels, assembly hardware.
*Low Flat Rate Shipping applied at Checkout $25.00  

*48 contiguous US States, a surcharge may apply on select locations
DIAMOND BACK COVER IS NOT INCLUDED

Shipped Bare Steel, Will Require Painting or Powder Coat


BELOW, 18" TALL VERSION












BELOW, STANDARD RACKS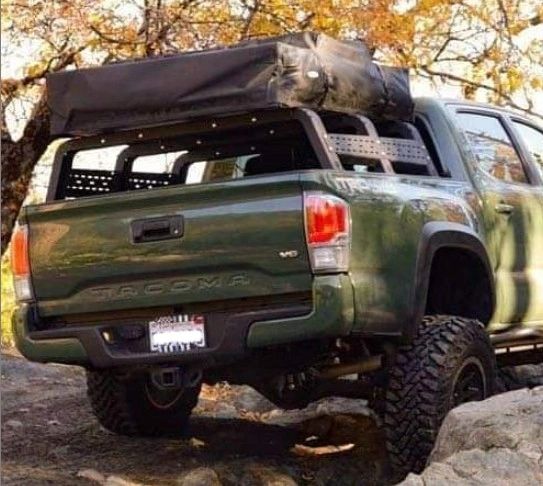 ABOVE,     TACOMA SPECIFIC    T H O R A X   12 x 46




Rack on a full size Tundra, this the 18" tall universal model




ALSO AVAILABLE, OVER CAB CHASE RACK -more info-


-above-  OVER CAB CHASE RACK -more info-