THORAX 18" TALL OVERLAND BED RACK SYSTEM UNIVERSAL FIT (46" & 58" LENGTHS)
18" TALL THORAX OVERLAND BED RACK SYSTEM
(CHOICE OF 46" or 58" LENGTHS)
Shipped Bare Steel, Requires Painting or Powder Coat
"THORAX" Fully Adjustable Width Bed Rack System
18" Height
Perfect for Mounting Your OVERLAND Style Tent, Recovery Tools, MAXTRAX, RotopaX Water/Fuel Containers, Shovels, Jacks, Fire Extinguisher, Bicycle mounts, etc.

Multiple Universal Accessory Mounting Hole Patterns Along Both Sides Racks
The THORAX Rack System by Chassis Unlimited, FULLY ADJUSTABLE WIDTH allows use on any truck bed, narrow or short. This UNIVERSAL RACK SYSTEM is width adjustable from 53" to 64", FITTING ALL BEDS WIDTHS, Hardware included. Heavy duty thin low profile brackets mount to inside of bed rails to optimize storage space in bed, Includes all necessary hardware. Assembly required, rack is shipped in one box, Please contact us for Powder Coating availability 
18" Height From Top of Bed Rails

46" or 58" (Front to Back Dimension)   -select length above-

53" - 64" 

Adjustable Width  
Rack Assembly is Designed for DIY Installation 
Universal Tent Mounting Slots Makes Mounting Any Tent Brand Easy
Universal Mounting Patterns on Top, And Both Sides of Rack for Accessories

~95 lbs

 Assembled Weight

1000 LB Capacity 

Rated (While vehicle is parked - ie. occupants in tent) 
Includes Full Rack Assembly - 3 Adjustable Width Bed Bars, 3 Cross Bars, Assembly Hardware, 

simple assembly required

Low Flat Rate Shipping applied at Checkout $25.00
WHAT SIZE RACK IS BEST FOR YOUR BED? Only you can determine that based on your needs, equipment being used & preferences. Take some measurements and assess your needs 

RACK LENGTH, Tent size, some large tents fit better on a 58-inch long THORAX rack although many tents have reinforced bases or out-rigger stands that work with the 46" version, longer truck beds can take the 58 inch long rack, although truck bed length is not the only factor, you may need room for taller items in a portion of your bed, the 46" rack may allow for that room & work out better. * 58-inch long THORAX rack may not fit shorter truck beds, please measure before ordering

RACK HEIGHT, a shorter height rack like the 12" THORAX can keep tent pack lower in truck bed for a lower profile, less aerodynamic drag/ wind noise and easier/ lower access to the tent, it also leaves less room in truck bed below it.  The taller 18" THORAX has more room on the side rails for your add-on accessories & more room on underside.

YOUR PARTICULAR SET-UP, EQUIPMENT & TOOLS CARRIED WILL DICTATE WHAT RACK WILL WORK BEST


Bed rail adjustable track mounting systems, bed rail systems are becoming more common in new vehicles, either factory-installed or optional equipment (also in the aftermarket) with these sliding rail systems it can eliminate the need for drilling to install racks.  Jeep Gladiator and some Toyota trucks have these on specific models/packages. Additional parts may be needed to utilize. (see below example)


Bed covers, too many variables to determine if all bed covers will work with this Thorax rack system, the mounting legs of the Thorax were designed to be as thin & low profile yet strong as possible.  There are (risers) extensions for racks available that may help with combining bed covers and racks.    
*For Specific Bolt-In 05-20 Toyota Tacoma THORAX RACK  -select-
Below, an example of Toyota Tundra adjustable rail system (not included)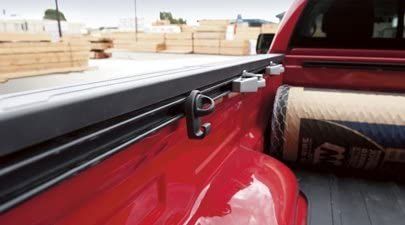 Above 2020 RAM 2500 18"x58" BED RACK (paint matched by owner)






Rack on a full size Tundra, this the 18" tall universal model




ALSO AVAILABLE, OVER CAB CHASE RACK -more info-


-above-  OVER CAB CHASE RACK -more info-